Custom metal light pole banner signs
Boss Metal Fabricators...when you want a PERMANENT sign for your community, not just for a season or two!

3/16" thick aluminum panels
2 styles to choose from: cut out style shown here or screen printed on both sides
designed to last for many years
robust steel brackets, also sold separately
panels and brackets powder coated to any color
"Our 3/16" thick aluminum panels are designed to last for many years," according to Bob Bossomo, Sr., Boss Metal Fabricators, Inc. "Our competitors mostly supply the vinyl panels with the cheap hose clamp brackets. They last a season or two at best.

"Our aluminum sign panels, paired with heavy gage (welded) steel brackets, provide the structural integrity needed for this type of outdoor application. Both the panels and the support brackets are powder coated (exterior grade) to any color required. The mounting fasteners are stainless steel. The end result (seen in these photos), can only be described as stunning. The graphics can be either the actual cut-out style that you see in the photo ( this also help with wind resistance ) or screen printed on both sides. We can also provide a combination of both," said Bob.

Your community is worth this high-quality sign that will last for years, don't you agree? These landmark light pole banners are extremely long lasting, and will celebrate and highlight your community for years to come.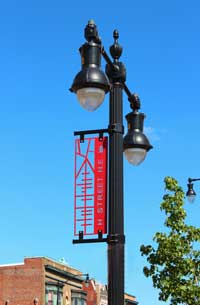 Contact Boss Metal Fabricators for a fully customized metal permanent pole sign that will last.





Let's get started. We will be happy to assist you...
Please tell us about your project...